Eastern Nebraska lakefront real estate - Lakefront Homes and Living
Eastern Nebraska lakefront real estate - Lakefront Homes and Living
Eastern Nebraska
Lakefront Real Estate
Late summer is the best time of year to load up the boat and hit the lake. Most residents new to Eastern Nebraska are surprised by the number and quality of lakes in the area.
Before you cinch down your PFD be sure to scout out the perfect spot for you and your family. Not every lake permits motorized boats and privately owned lakes usually require special permission before admittance.
There are a wide variety of fish lurking in Nebraska lakes; often you'll find one lure - marabou jigs, for instance - will work on many different species.
Listed below are some of Nebraska's hidden gems; small lake communities near the Omaha Metropolitan Area.
Blue Water
Welcome home to the 'Street of Dreams' Blue Water community! This exclusive, luxury development is a short drive from Omaha and features 250 acres of pristine blue water with over 7 miles of spectacular sand beaches! Amenities include concrete curbs and streets, city water and sewer, close to shopping, schools and restaurants; and only a 12 minutes from Village Pointe. This waterfront community is truly the opportunity of a lifetime to live your paradise dream. SEARCH BLUE WATER HOMES FOR SALE
Timber Shores (Formerly known as Gaviidae)
Named after the loons the return to the lake annually, Timber Shores is an exclusive community located west of the charming city of Valley, Nebraska. Welcoming boats of all kinds, Timber Shores is a sand-bottomed "wake lake," offering lake access to motorized boats as well as canoes, kayaks, paddle boats and sail boats. Thirty-seven brand new home sites with up to 800 feet of shoreline encircle the two spring-fed lakes of Timber Shores. With towering heritage trees and lush lakeside flora, Timber Shores offers homeowners a little slice of paradise just minutes from the Omaha Metropolitan Area. SEARCH TIMBER SHORES HOMES FOR SALE
Valley Shores
Valley Shores is a leisure community which surrounds a forty-two acre sand-bottomed lake adjacent to The Pines Country Club. Start your day with 18 holes of golf, or maybe a brisk jog on Valley Shore's walking trail. Each home site comes equipped with cable TV, sewer, gas and water. Water skiers and other motorized boats are welcome, but no jet skis are allowed on the lake. Valley Shores is located ten minutes from the new YMCA in Twin Rivers Circle and D.C. West High School on Pine Street. SEARCH VALLEY SHORES HOMES FOR SALE
Newport Landing Lakefront Home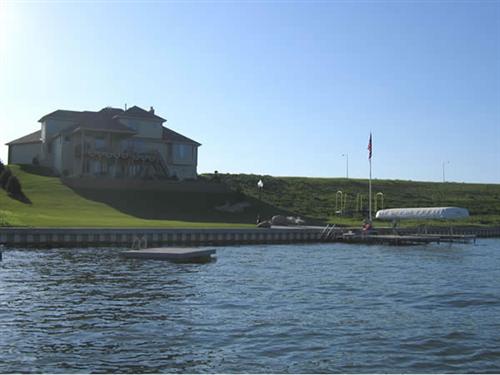 Newport Landing
Bass fishing, jet skiing and paddling are just some of the many activities enjoyed by Newport Landing locals. Newport Landing is a charming lakeside community east of Omaha. Home to a wide variety of birds and fish, Newport Landing is the perfect site for nature lovers. SEARCH NEWPORT LANDING HOMES FOR SALE
Ginger Cove
Developed in 1966, Ginger Cove is a private, 100-acre lake near HWY 275. Ginger Cove's sandy lake bed is perfect for tubing, water skiing, jet skiing and kayaking. The clear waters of Ginger Cove are home to several varieties of whitefish, such as catfish and bluegill. Residents of Ginger Cove take comfort in living in a safe community; security patrols ensure lakeside safety and minimize property damage during peak seasons. For boaters' convenience, the lake features a lakeside gas pump and concrete boat ramp. Ginger Cove is a friendly, tight-knit community of recreationist who share a love for lakeside living. SEARCH GINGER COVE HOMES FOR SALE
Ginger Woods
Ginger Woods is a snaking, tree-lined lake dotted with lakeside cottages. This quiet lake community is located in the D.C West School District in Valley, Nebraska. At night, the shores of Ginger Woods are lit by bonfires and barbecues while the water flickers with starlight. Residents enjoy passing on their love for the outdoors to their kids and grandkids, which is why the staff at Ginger Woods takes care to plan community events that are fun for all ages. The smooth, sandy lake bottom is perfect for boaters and jet skiers. SEARCH GINGER WOODS HOMES FOR SALE
Mallard Landing
Mallard Landing is an exciting new lake community featuring both shoreline and lake view sites. Community design gives each lakeside home site a unique section of shoreline while encouraging eco-friendly, one-way boat traffic. With a gentle, sandy lake bed Mallard Landing is perfect for jet skis, wake boarding and other watercraft. Mallard Landing offers families the security of a planned community with the surprising splendor of the outdoors. SEARCH MALLARD LANDING HOMES FOR SALE
Riverside Lakes
Whether you want to spend the day ripping and tearing with your jet ski or trolling spinners, you'll find just what you're looking for at Riverside Lakes. Located near Waterloo, NE, Riverside Lakes consists of a designated eighty-acre boating lake and a twenty-six-acre fishing lake with lots along the historic Elkhorn River. Within the community there are tennis and volleyball courts, as well as carefully landscaped common areas. Kids love watching ducks and geese parade along the water's edge. Plus, an active homeowners association puts together lots of fun events for residents, including annual favorites such as the "Tapas to Tiramisu" bash. Riverside Lakes is surrounded by verdant plant life and warm sandy beaches. SEARCH RIVERSIDE LAKES HOMES FOR SALE
Woodcliff Lakes
Two miles south of Fremont, Nebraska you'll find a vibrant lakeside community near the Platte River in Saunders County. The winding, tree-covered shores shield anglers and swimmers from the scorching summer sun and create more privacy around properties in Woodcliff. Residents also enjoy a number of on-site businesses such as Pop's Pizza and the Backporch Lounge. The Replant Woodcliff group raises funds to maintain the wild beauty surrounding the community. Woodcliff Lakes consists of two sunny lakes, Tirawa and Ski-Di, which total 145 acres of prime boating and jet skiing conditions. SEARCH WOODCLIFF LAKES HOMES FOR SALE
Beaver Lake
Forty minutes south of Omaha, the branching Beaver Lake has many scenic features perfect for an outing on the jet ski. Fishermen flock to Beaver Lake for "lunkers" and annual catfishing tournaments. A full-service marina at the eastern edge of the lake provides most of the essentials for a day at the lake. Residents love the fresh air and privacy provided by the trees along the shore. In the fall, the trees surround the lake in color: a gorgeous backdrop for fall weddings. SEARCH BEAVER LAKE HOMES FOR SALE
Villa Springs
Situated midway between Lincoln and Omaha, Villa Springs is a placid lake ringed by wispy green meadows. Quiet and calm, only trolling motors and non-motorized boats are permitted at Villa Springs. Villa Springs is the perfect commuter retreat, with lots averaging an acre in size. Residents enjoy morning paddles around the lake, dramatic sunsets and starlit nights from their lakeside property. SEARCH VILLA SPRINGS HOMES FOR SALE
West Shores
At the intersection of HWY 275 and West Dodge road, you'll find 203 acres of prime boating waters. West Shores is a sand-bottomed lake open to boaters and paddlers, but not jet skis. Unique to West Shores, a special boat-in location on an island in the lake is a great spot for picnics and swimming. West Shores residents love the relaxed, beach resort atmosphere that surrounds their lakeside property. The community features walking trails, a children's playground, and a full-service marina. SEARCH WEST SHORES HOMES FOR SALE
Timber Lodge Lake
Just off of Maple Road in Douglas County, Timber Lodge Lake attracts many nature lovers throughout the year. Timber Lodge Lake is only minutes from Valley, Nebraska and just north of Timber Shores. Timber Lodge Lake makes for a great lunchtime destination, as it lays a little off the beaten track for most boaters and fishermen, although its size makes it great for young paddlers. SEARCH TIMBER LODGE LAKE HOMES FOR SALE
If you are thinking about buying or selling a home, give us a call at (402) 677-9024 or send us an email to explore your options and to find out when is the best time for you to make a move.