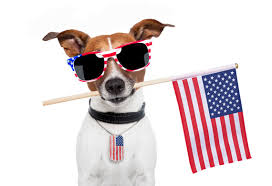 With all the fun and exciting events happening in and around Omaha, NE this Fourth of July week (check out events here), we can't forget how scary and potentially dangerous this time of year can be for our pets. For this reason, we wanted to bring you a blog post today that is dedicated to pet safety and how to make sure your furry friends are protected this Independence Day!
1.)

Our first tip for you is to leave your pet at home. While you may have the urge to bring them along for the festivities, a crowded park or busy backyard party is not the best place for your pet and can cause a lot of anxiety- especially if there will be loud fireworks at some point in the night.
2.)

Second, leave the table scraps for the trash. We understand how easy it is to break down when they bat their sweet, innocent eyes at you, but begging for table scraps should not fly this holiday! Festive foods such as chocolate, beer, corn-on-the cob, grapes, garlic and onions can be extremely dangerous when ingested by cats and dogs.
3.)

Making sure that your pet can be properly identified if they get away from your care is also extremely important this Fourth of July. If you are hosting family and friends for the holiday your front door may as well be an electric revolving door. People are coming and going, and if your pet happens to make a break for it you want to make sure they have an ID tag or microchip to ensure they can be returned safely to you if need be.
4.)

Our fourth holiday safely tip is to pay special attention to matches and lighter fluid. Whether you are lighting the barbecue or a welcoming scented candle, you want to make sure to keep them away from your pets. Lighter fluid can irritate your pets' skin and cause serious health complications if ingested, and some matches contain chlorates which can lead to difficulty breathing and/or blood cell damage to your furry family members.
5.)

Lastly, be sure to NEVER use or set fireworks off around your pets. There is no question how beautiful fireworks can be to look at, but leave them to the professionals! Lit fireworks can be extremely dangerous, especially if your pets become curious and want to take a closer look - which can result in severe burns and/or trauma to paws and face (YIKES!). Additionally, there are some fireworks that contain substances that can be toxic such as heavy metals, arsenic and potassium nitrate. And let's be honest, there is nothing like an emergency run to the vet to ruin a special holiday with family and friends!
*In the unfortunate event that something goes wrong this Fourth of July and your pet needs emergency care, we have listed a few urgent pet care facilities located in or near Omaha, NE below:
4257 S 144th Street Omaha, NE 68137
8455 S 73rd Plaza Papillion, NE 68046
VCA Midwest Veterinary Referral & Emergency Center
9706 Mockingbird Driver Omaha, NE 68127