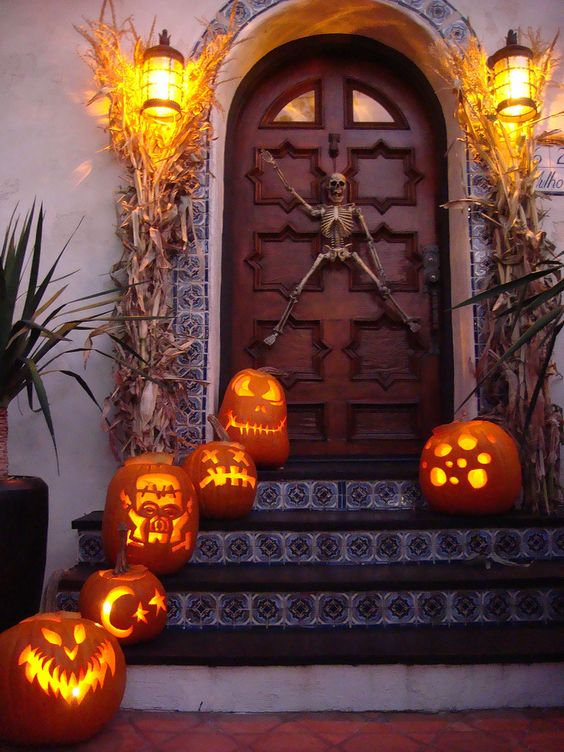 If you are a fan of pumpkin carving, costume stores and everything spooky, then we bet you are excited that Halloween is just a few days away! And while you may be daydreaming about your get-up and enjoying the thought of all the little trick-or-treaters that will soon be knocking on your door, you also should stop to think about some safety precautions to take to ensure everyone has a fun and safe holiday. And lucky for you we have you covered on that front. If you are interested in a few safety tips for your home this Halloween, then keep reading below!
Our first tip for you this Halloween is to make sure that the front of your home is well lit. While it may seem more haunting and spooky to keep your home dark, the dramatic effect is not worth someone potentially tripping or falling from not being able to see clearly. You are also more likely to ward off intruders and any criminal activity if your home is well lit at night. Next, you want to be sure to clear walking paths of any debris such as leaves, tangled roots and displaced branches. Many young and eager trick-or-treaters will do anything and everything they can to collect their sweet treats in a flash, so be sure to have a clear path for them to jog, run and skip to your front door.
While you may be tempted to dress your pet up in a festive costume and have them be a helping paw to hand out candy, it is best to keep them indoors and away from all commotion. No matter how well behaved Winston may be, pets can have anxiety with all the noise, strangers and masks that come with the holiday. Lastly, you should always be aware and attentive to fire safety. We know how much fun you had carving your pumpkins and just how much a candle brings the creation to life. But an open flame can be dangerous, especially if a dinosaur accidentally knocks over the lit pumpkin with its tale. So instead, maybe think about a flameless candle as an alternative to keep everyone safe and away from open flames this Halloween.