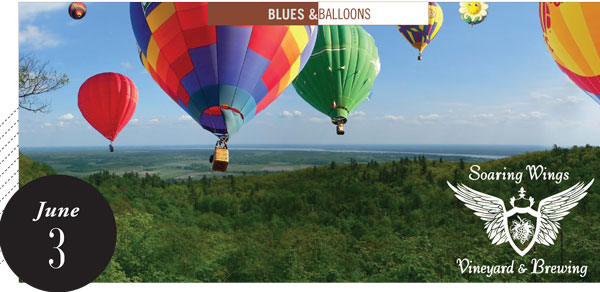 The official end of spring and launch of summer is here. Come join Soaring Wings Vineyard & Brewing for a festival of fun. Saturday, June 3, at 3:30 PM, the gates of the 13th Annual Spring Wine, Blues, Beer and Hot Air Balloon Festival open.
There will be live music featuring:
4:00 - 5:00 PM Tim Budig Band (OMA Nom)
5:30 - 6:30 PM Frank Ace Band (Topeka Nom)
7:00 - 8:00 PM Amanda Fish Band (KC Nom)
9:30 - 10:00 PM All Band Jam Session
From 3:30 - 9:30PM the Hog Wild Pit Bar-B-Q Food Truck will be on site serving some of their favorite featured items.
Weather permitting, there will be the Hot Air Balloon launch filling the sky with a beautiful display of colors!
Tickets available for purchase at the gate or online HERE. The cost is $25 a ticket.
Venue: Soaring Wings Amphitheater - 17111 S 138th St., Springfield, NE 68059