Single-Family Home Vs. Townhouse Vs. Condo. What Is The Best Option For You?
Monday, July 29, 2019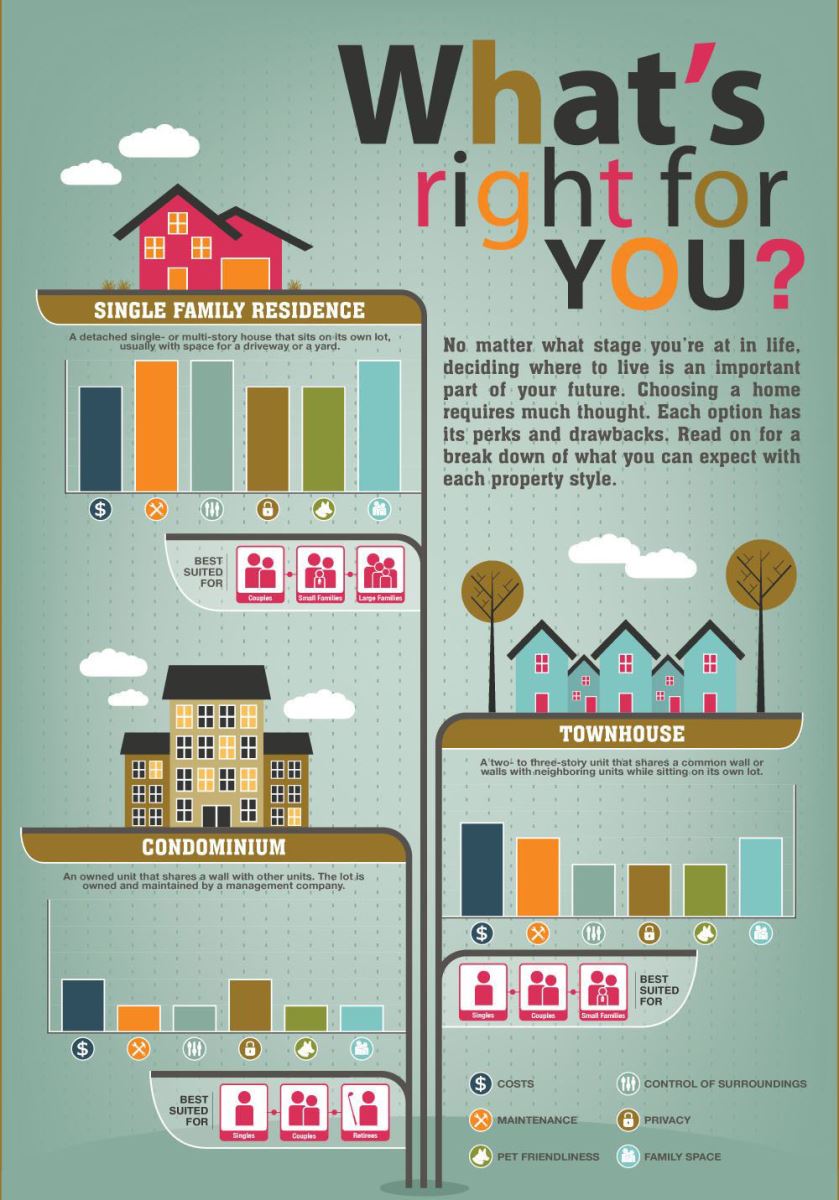 If you are in the market to purchase a single-family home, townhouse or condo in the Omaha, NE area, there are a few important differences that you should understand before starting your search. We have listed them below for you to review and hope the information helps you to get a better understanding of which option would work best for your situation!
Let's start by first defining what each option is:
A single-family home is a detached house that sits on its own lot and usually includes a yard and/or driveway. These can be single or multiple story houses depending on the area and neighborhood.
A condo is a unit within a building, or community of buildings, that is owned by an individual. The lot on the other hand is maintained and owned by the management company.
A townhouse is a unit that sits on its own land yet is connected by a common wall/walls with neighboring units. Townhouses are usually two to three stories.
Features of single-family home ownership:
-Single-family homes are located on their own lot, providing privacy and space from neighboring properties.
-Depending on the neighborhood the home is located in, homeowners may be responsible for an HOA (Homeowners Association) fee and therefore have to abide by certain restrictions on home exteriors, yard appearance, etc.
-If your home does not fall in a neighborhood with an HOA, you have full freedom over the look and upkeep of your property.
Features of condo ownership:
-Condo units come in many different styles, sizes and floor plans, and can be part of high rises, cul-de-sacs and anything in between.
-Owners of condos only own the interior of their unit – all other areas (community areas, lawn, building exterior, etc.) is property of the HOA.
-Many condo buildings feature amenities such as a pool, club house and green areas for owners to enjoy.
-Condo owners usually pay a higher HOA (Homeowners Association) fee due to paying for things such as pest control, lawn care, exterior upkeep and trash removal.
Features of townhouse ownership:
-You will find many townhomes that are quite spacious and many feature multiple stories.
-Owners of townhomes typically own the interior and exterior of the unit, including lawn, driveway, and roof. Community areas are not included in ownership.
-Depending on the location of your property in the row, townhouses can share one to two walls with their adjoining neighbors.
-You will find some townhouse communities that offer their residents amenities, but there are many that are private and have limited features.
-Townhouse owners typically pay a lower HOA (Homeowners Association) fee because they are responsible for much of the upkeep of their own property. The HOA will still be responsible for things such as trash removal and certain types of maintenance.