Wednesday, November 27, 2019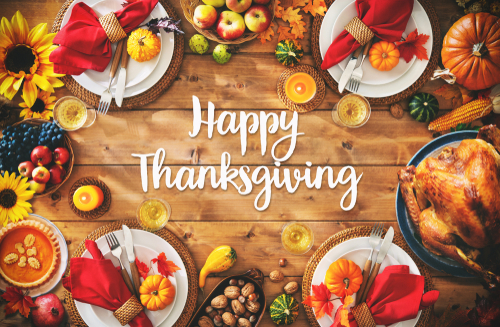 When you think of the Thanksgiving holiday what comes to mind? Probably warm, hearty food, a table filled with festive centerpieces, a football game or two and spending time with those you love most. The holiday is also traditionally a time for people to reflect on what they are grateful for and all the blessings that fill their lives throughout the year.
As defined by the Merriam-Webster dictionary, gratitude is 'the state of being grateful, thankfulness.' In the spirit of the holiday, we wanted to dedicate today's blog post on ways to show gratitude in your day to day lives in hopes to keep the Thanksgiving spirit alive throughout the year.
-Be thoughtful of others by considering their feelings with every word spoken and action taken.
-Let someone know exactly how you feel by giving a detailed example of appreciation.
-When interacting with others, make eye contact to show you are present in the conversation and engaged with what they are saying.
-Be gracious when someone challenges your words, actions or views and respectfully listen to their point of view.
-Share in other people's joys and victories as if they were your own.
-Be patient with others as everyone is fighting their own battles that you may know nothing about.
-Take a few moments each night to write down little things that happened in your day that you are grateful/thankful for. This is a great activity to find and highlight the good things in your life, no matter how small.
From everyone here at the Heim-Berg Team, we wanted to say how grateful we are for each of our wonderful clients and say 'thank you' for allowing us to serve you. We also want to wish everyone a very Happy Thanksgiving filled with delicious food and beautiful memories for you to cherish always. See you next week!
Looking for more information on our incredible agents? Get to know our team better by checking out our "About" page here!